Upcoming
Feb 5 – Apr 30 | Duet for Tree Branch and Oil Can | Spruce Peak Arts, Stowe, VT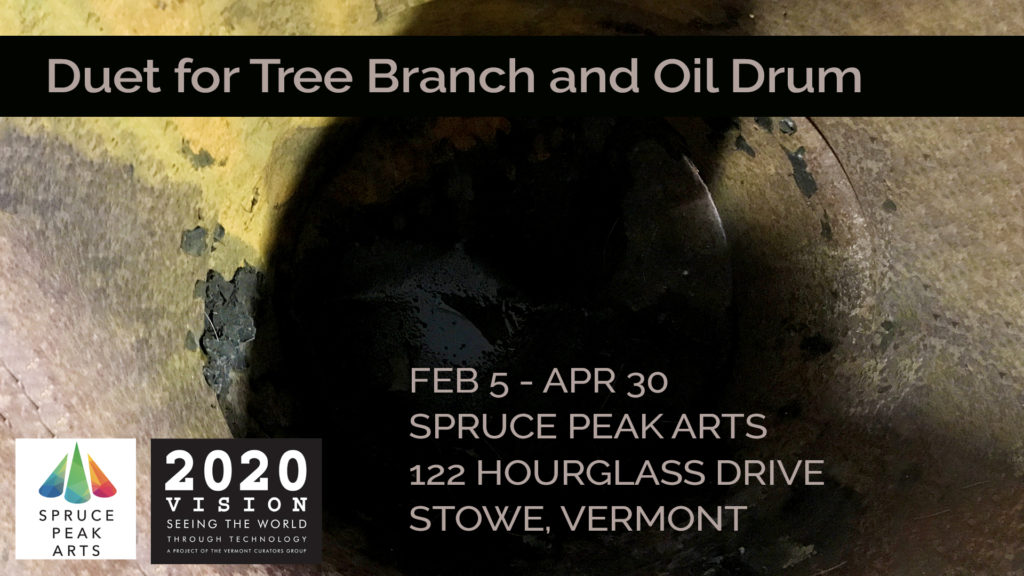 Dates: Feb 5 [Wed] – Apr 30 [Thr]
Place: Spruce Peak Arts, 122 Hourglass Dr., Stowe, VT
Times: Thr through Sat 11am to 5pm, one hour prior to all events
Info: Office phone 802.760.4634
Duet for Tree Branch and Oil Can is a sound installation part of the Art of Sound exhibition at Spruce Peak Arts and the 2020 Vision Show curated by Kelly Holt.
The rural is a concept, a projected edgespace between "civilization" and its other, something that is often termed "nature." It is produced through a settler-colonial project based upon the irreconcilability of these two concepts. At one scale, these edgesspaces encompass entire communities and cultures. On a smaller scale, these edges exist as a matrix of forgotten lines, marked with discarded tires and rusted fuel cans: the line where some forgotten dweller decided "up to this point is my yard, beyond it: my junk pile."
This piece sonifies a single point of contact in the production of rural space. A barrel of Tuff-Kote sealant and a tree branch, both harvested from a creek bed in Woodbury, Vermont, are tethered to the grid and automated in perpetual friction.